AVM OVATION SD 8.2 (Silver) (รวมรีโมท RC9)
Analog preamplifier with Streaming & DAC & Tube Line Stage

The new SD 6.2 and SD 8.2 heralds a completely new category of AVM components with streaming capabilities. Both components combine an analog pre-amplifier with 2 analog line inputs, DAC with DSD, streaming lient, web radio and a high performance headphone amp, all into one unit. We call them Streaming DAC or short: SD.
Both flagship models are close relatives: In the SD 6.2 we focus on pure solid state technology in all amplifier stages, while the OVATION Tube Line Stage of the SD 8.2 creates a unique warm and natural sound reproduction. This is technology is compiled into an OVATION Line cabinet size well known from our modular PA 8.2 pre-amplifier.
Since these SD units may serve as full-blown pre-amplifiers, combining them with our power amps SA 6.2, SA 8.2 or MA 6.2 & 8.2 is a logical consequence. Furthermore the SD 6.2 and SD 8.2 may as well be combined with active speakers.
With the new SD 6.2 and SD 8.2, so called computer audio comes to the OVATION Line. A completely new combination of analog pre-amplifier, streaming client, DAC with DSD and headphone amp creates a new category of digital sound center for listeners with a focus on digitally streamed music from different sources.
2 ESS 9018 K2M Sabre32 DACs per channel are being applied. This way even the digital domain the music signals are being processed in balanced mode. High precision clocks are being applied. The voltage regulators are separated for both DACs and the supply voltage is regulated twice. This decouples the DAC entirely from other parts of the digital circuitry. The AVM streaming engine allows countless formats to be processed and is upgradeable making it future proof for additional formats.
Like all AVM hi-fi components the SD 6.2 and SD 8.2 is carefully developed and assembled by our engineers in Malsch, Germany. Our vendors for housing and electronic parts reside all near-by. This proximity helps us to easily ensure and maintain superb quality level of the supplied parts for the AVM hi-fi components made of these.
During the manufacturing process we perform repeatedly numerous tests to insure the absolute quality of our products. When the assembling is finished and the first inspection is done all units must pass a run in test in order to prove their reliability. After that a careful final inspection follows before packing & shipping. All this ensures creating a perfect product from AVM for our customers.

OVATION SD 6.2 & SD 8.2 Streaming DAC in brief
SD 6.2: OVATION Solid state technology in all amplifier stages

SD 8.2: OVATION Tube Line Stage with AVM803 double triodes

2 unbalanced line inputs (i.e. for connection of an external phono

1 Pre Out balanced, 1 Pre Out unbalanced, 1 Line Out

7 digital inputs:

2x SPDIF opt.

2x SPDIF coax.

1 x asynchronous USB- input with DSD 128

1 x AES/EBU

Network: WLAN & LAN

Streaming Formats: MP3 , WMA, AAC, OGG Vorbis, FLAC (192/32 via LAN), WAV (192/32 via LAN), AIFF (192/32 via LAN), ALAC (96/24 via LAN)

Supported media server: UPnP 1.1, UPnP-AV and DLNA-compatible server, Microsoft Windows Media Connect Server (WMDRM 10), DLNA-compatible server: NAS

Webradio: Airable Internet Radio Service, Internet Radio Station Database (automatic updates)

Supported streaming services: TIDAL, Qobuz

Digital signal processing with up to 192 kHz / 24 Bit (USB 384kHz)

Upsampling frequency for all incoming digital signals may be switched between:
Native, 44,1, 48, 88, 96, 176, 192 kHz

Switchable digital filters

Class-A Headphone Amp with 6,3 mm banana plug

Tone control and parametric loudness with Bypass-function

Large, blue graphic display

A large variety of menu function for individual presets (i.e. adjustable input sensitivity, renaming inputs and many more)

Housing options: Aluminum silver or black, chrome front optional

RC 9 with color display and charger are included

Stand-by power consumption < 0,5 Watt
RC 9 Remote Control
The beautiful RC 9 remote control with color display may be used for all functions as an option. This programmable and rechargeable remote control always comes with a charging dock.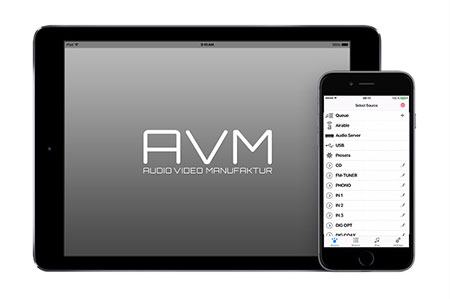 RC S App for iOS and Android
The RC S App will turn your smartphone or tablet into an easy-to-use remote control for your AVM audio components with integrated streaming capabilities and provides a variety of intuitive features to get the most out of your network-enabled AVM HiFi device.
TIDAL & QOBUZ
All AVM HiFi Streaming devices now include support for TIDAL & QOBUZ. TIDAL & QOBUZ are both innovative music streaming platforms offering high-fidelity sound quality, expertly curated content, and unique artists experiences for registered subscribers. TIDAL & QOBUZ both offer free trial versions. For more information on TIDAL & QOBUZ, please visit www.tidal.com & www.qobuz.com.
Stay up-to-date

To get the most out of your AVM HiFi streaming system, please make sure you always keep the RC S App and the streaming software of your AVM device up-to-date. You can download the latest version of the RC S App in the Apple App Store or the Google Play Store. To make sure your AVM device runs the latest version of the streaming software, please use the RC S App or the optionally available RC 9 remote control.
RC S: Navigate to the Settings tab and choose Device Settings / Software / Check for Updates
RC 9: Navigate to the Receiver Settings menu and choose Software / Update

RC S Remote Control App for iOS





RC S Remote Control App for Android