AVM OVATION CS 6.2 (Black) (รวมรีโมท RC9)
A true Audiophile Masterpiece
The CS 6. 2 and the CS 8.2 unify the award winning technologies of the AVM OVATION Line into a high performance All-in-One Audiophile Masterpiece. Also in respect of connectivity, the CS 6. 2 & 8.2 offer a complete selection: All common streaming formats are supported and a CD mechanism based on the exclusive TEAC drive for AVM are on board. Furthermore, a large selection of analogue and digital connections is available.
Both flagship models are close relatives and only differ in their remarkable power amps: In the CS 6.2 we focus on prestigious solid state technology in all amplifier stages, while the OVATION Tube Line Stage of the CS 8.2 creates a unique warm and natural sound reproduction. All details are being reproduced in an unheard neutrality and spaciousness. Relaxed and joyous listening sessions are our goal and both the CS 6.2 & 8.2 make this a reality with ease. All this is possible with all kind of selected music. The extremely powerful amplifiers of the CS 6.2 & 8.2 deliver up to 500 Watt per channel. All speakers in the market can be driven with ease overall volume levels.
In the CS 6.2 & 8.2 the modular design principle of the OVATION Line premieres in an All-in-One unit. I.e. the DAC is designed as an exchangeable module. Already today this Quad-DAC may process digital signals up to 384kHz/32bit and also DSD formats are being transformed into analogue music signals which are a perfect recreation of the original. The formats to store digital music is going to rapid advancements. In case, future formats with higher resolutions require new DACs, the CS 6. 2 & 8.2 is prepared for this as the DAC module will be hardware upgradeable.
Like all other OVATION Line units, the CS 6. 2 & 8.2 offer vast and versatile connectivity and control possibilities. In doing so, not only the common music streaming formats are being supported. Furthermore, digital inputs including an asynchronous USB-input and SPDIF inputs and outputs are available. Connected NAS or external hard drives may also be operated as well as USB jump drives. The software (firmware) of the streaming engine is easily online upgradeable online. This way future Formats and additional features may be implemented with an easy update.
Special attention was given to authentic and excellent CD reproduction. The acoustically shielded CD mechanism is mounted in the rigid OVATION Line housing to protect it from unwanted influences (vibrations etc.).
Both the CS 6. 2 and the CS 8.2 stand in the best AVM tradition and amaze with their 'reduce-to-the-max' design. The perfectly machined housing built of massive sheet aluminum is assembled without visible screws and bolts. A multi chamber layout of the housing protects the sensitive electronics from distracting influences which may deteriorate sound quality. Attention to detail is carefully exercised in every aspect. The chrome plated knobs are made of one single piece including their axels and are mounted in heavy duty ball bearings. Through the glass cover in the top plate of the CS 8.2 the glowing tubes are made visible and maybe observed while producing their glamourous sound texture.
As standard versions the CS 6.2 & 8.2 is available in silver or black anodized polished aluminum. As an option a massive chrome front panel is available (upcharge). Also the chrome knobs for volume and input selection may be customized upon request.
With the AVM RC S App or the optional remote controls (RC 3 or RC 8 made of solid aluminum) the CS 6.2 & 8.2 may be controlled easily. The programmable RC 9 remote control with color display is available as an option, the charger cradle is included with the RC 9.
Like all AVM hi-fi components the CS 6.2 & 8.2 is carefully developed and assembled by our engineers in Malsch, Germany. Our vendors for housing and electronic parts reside all near-by. This proximity helps us to easily ensure and maintain superb quality level of the supplied parts for the AVM hi-fi components made of these.
During the manufacturing process we perform repeatedly numerous tests to insure the absolute quality of our products. When the assembling is finished and the first inspection is done all units must pass a run in test in order to prove their reliability. After that a careful final inspection follows before packing & shipping. All this ensures creating a perfect product from AVM for our customers.
OVATION CS 6.2 / 8.2 in brief
High Efficiency power amps with 500 W/Ch

CS 6.2: OVATION Solid state technology in all amplifier stages

CS 8.2: OVATION Tube Line Stage with AVM803 double triodes

2 line inputs (home theatre throughput selectable)

4 digital inputs (SPDIF, 2 x opt., asynchronous USB-Input)

1 Pre Out with XLR & RCA, 1 Line Out (RCA)

2 digital outputs (SPDIF & opt. )

Pure CD-Drive with Slot-in (exclusive delivery from TEAC for AVM)

Streaming-Formats: MP3 , WMA, AAC, OGG Vorbis, FLAC (192/32 over LAN), WAV (192/32 over LAN), AIFF (192/32 over LAN), ALAC (96/24 over LAN)Supported Media server: UPnP 1.1, UPnP-AV and DLNA-compatible Server, Microsoft Windows Media Connect Server (WMDRM 10), DLNA-compatible Server: NAS

Web radio service: Airable

WLAN & LAN

FM-RDS-Tuner

Headphone out with 6,3 mm banana

Separate power supply for the power amps

Sleep mode: WLAN connection is maintained for on/OFF via AVM RC S App or RC9

Tone control and parametric loudness with bypass-function

Blue graphic display

Vast menu functions for individual settings (adjustable input sensitivity, custom input naming and much more)

Housing versions: Silver or black anodized aluminum, chrome front optional

RC 9 remote control with color display and charger available as an option (upcharge)

RC S App for iOS and Android

Delivered in a flight case
RC 9 Remote Control
The beautiful RC 9 remote control with color display may be used for all functions as an option. This programmable and rechargeable remote control always comes with a charging dock.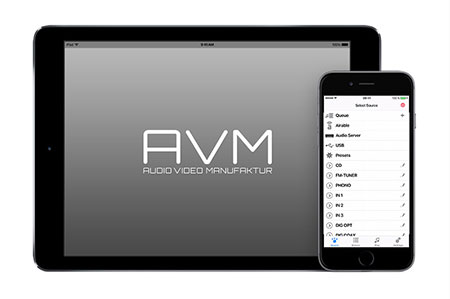 RC S App for iOS and Android
The RC S App will turn your smartphone or tablet into an easy-to-use remote control for your AVM audio components with integrated streaming capabilities and provides a variety of intuitive features to get the most out of your network-enabled AVM HiFi device.
IDAL & QOBUZ
All AVM HiFi Streaming devices now include support for TIDAL & QOBUZ. TIDAL & QOBUZ are both innovative music streaming platforms offering high-fidelity sound quality, expertly curated content, and unique artists experiences for registered subscribers. TIDAL & QOBUZ both offer free trial versions. For more information on TIDAL & QOBUZ, please visit www.tidal.com & www.qobuz.com.
Stay up-to-date
To get the most out of your AVM HiFi streaming system, please make sure you always keep the RC S App and the streaming software of your AVM device up-to-date. You can download the latest version of the RC S App in the Apple App Store or the Google Play Store. To make sure your AVM device runs the latest version of the streaming software, please use the RC S App or the optionally available RC 9 remote control.
RC S: Navigate to the Settings tab and choose Device Settings / Software / Check for Updates

RC 9: Navigate to the Receiver Settings menu and choose Software / Update

RC S Remote Control App for iOS





RC S Remote Control App for Android