AVM OVATION ML 6.2 (Black)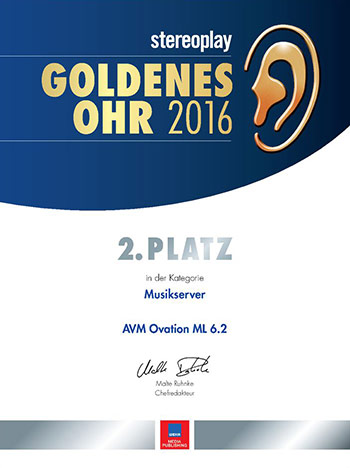 Music Library with SSD
AVM Music Library: Form-follows-Function
The Design
The AVM Music Library rips and stores your complete collection of digital music. We have symbolized the vanishing of your CD collection
by reducing the ML6.2's design to the point where it also vanishes from your audio system. Only the music remains.

The Technology
The ML 6.2 as a standard comes with 1 TB SSD storage equipped for music data.

The Sound
As ML 6.2 the OVATION Line Music Library features audio circuitries known form the SD 6.2 and MP 6.2.
The Functionality
In generation .2 of the Music Library many functions have been optimized and new functions have been added like the internet radio. The current manual is now being added to be displayed in the APP directly. The import function has been vastly improved so that more information (tagging, meta data) can be recognized, administrated and edited. Most important, sound quality of the Master-RIPP function has been increased widely and now delivers a much improved result when ripping CD.
OVATION ML 6.2 family in brief:
High End Music Server for CD-Ripping/Mastering: Master Ripp and Smart Ripp with a choice of WAV or FLAC files being stored as a result

Digital music formats with up to 192 kHz/24 bit resolution can be stored

Playable music formats (excerpts): FLAC, WAV, WMA, MP3, ACC, APE, AAC+ AIFF up to 192kHz/24 bit

High-End Music-Track Caching with 1,5 GB cache

Intuitive GUI for iPad / iPod touch / iPhone with AVM iOS App

Unique Database management: Even the largest music collections may be managed and thanks to the enormous computing power applied speedy access is accomplished independent of the library size

Finder system allows a simplified and simultaneous search for artist, track and album. Search criteria may be customized easily

Special data base functions allow management of tagging functions. Classical music collection can be managed with ease

All functions are accessible via the App, no computer is necessary for editing tagging information and cover art

Easy creation of playlists and – management i.e. with quick-playlist

Professional SSD storage with 1 TB as a standard (may be expanded to 2 TB)

Internet Radio

Safety and back-up kit: Easy Back-up functionality via preconfigured NAS (optional)

Server function for multi room application: UPnP streaming protocol for i.e. Squeeze Box or Sonos

Fanless design: The ML6.2 is designed to also work in very warm environments, no fan is built in

OVATION Line housing design with massive polished aluminum components
With the second generation of ML Music Libraries AVM goes to uncharted territories. The new generation of the OVATION Line ML music server is now based on pure SSD technology. This creates a music server that has no moving parts in playback mode and this way creates no noise at all. Logically the ML6.2 has now fan for cooling as the massive aluminum housing serves as the heat sink itself.
In this OVATION line unit we combine a superb playback system for digital music data with the ability to store digital music data sonically perfect. Vast functionalities i.e. for changing and editing tagging information, adding cover arts directly from you iPhone (or iPad), music imports and exports may be intuitively controlled from your iPhone or iPad. A PC at no time is required for controlling any of the functions of the ML6.2, this way the computer is kept away from the hifi system.
Everybody would love to have this: Owning a large music collection and finding your favorite tracks within this very large collection. Finding background information about the album played and combining favorites quick and easy into playlists. Playback of all sorts of digital formats up to 192/24 resolution and always receive an optimum musical joy. No sound from moving parts and availability of the digital files all across the house. This is the ML 6.2 from AVM.
With the OVATION Line ML 6.2 we have decided to create a digital playback system in a class of it's own which fulfills our uncompromised goal for perfect music reproduction combined with modern comfortable operation. Here we have looked for completely new ways. It may seem unusual to omit the display on the ML but we have only moved it and put it onto your lap. A plentiful number of easy-to-use functions are at your service. This is done via the AVM App operated on iPad, iPhone or iPod touch.
The ML6.2 may be configured according your personal needs. We offer memory bank expansions up to
2 TB SSD. Digital outputs, safety-kits, back-up kits and many more options are available and will be configured by your dealer. The ML is available in silver, black and as an option with the traditional AVM chrome front. Our retailers will be glad to configure the ML according to your needs and install it perfectly in your environment. The modular concept makes the ML6.2 future proof.
There is one more thing: Enjoy the fantastic sound performance during an audition at you local dealer. The AVM Music Libraries will give you an increase of sound performance and comfort alike, which you will not want to miss in the future.




Remote Control App for iOS (PuristHDR)