AVM OVATION MP 6.2 (Silver) (รวมรีโมท RC9)
OVATION MP 6.2 & MP 8.2 in brief
TEAC Pure-CD drive with slot-in, spring mounted, exclusively provided to AVM

MP 6.2: OVATION transistor-based high-level output

MP 8.2: OVATION tube line stage with AVM803 double triodes

Analogue high-level outputs outputs: 2 x XLR (balanced), 2 x Cinch/RCA (unbalanced)

Streaming formats: MP3 , WMA, AAC, OGG Vorbis, FLAC (192/24 via LAN), WAV (192/24 via LAN), AIFF (192/24 via LAN), ALAC (96/24 via LAN)

Supported media server: UPnP 1.1, UPnP-AV and DLNA-compatible server, Microsoft Windows Media Connect Server (WMDRM 10), DLNA-compatible server: NAS

Webradio: Airable Internet Radio Service, Internet Radio Station Database (automatic updates)

Supported streaming services: TIDAL, Qobuz

Network: WLAN & LAN

RC 9 remote control with color display and loading dock optionally available

Comprehensive menu functions (individual input labeling and much more)

Digital inputs: 1 x USB: asynchronous (galvanically isolated, DSD64), 2 x SPDIF coaxial, 2 x SPDIF optical, 1 x AES/EBU

2 digital outputs (SPDIF coaxial & SPDIF optical)

Signal processing: Up to 192 kHz / 24 Bit

Selectable up- or downsampling of all incoming signals: 44,1kHz/16bit - 192kHz/24bit

Two digital filters: smooth & steep

Reduced stray field power supply (separated mounting of CD drive and audio electronics)

Large, blue graphic display (dimmable)

Housing options: Aluminum silver or black, chrome front optional

Delivered in AVM OVATION Flightcase
RC 9 Remote Control
The beautiful RC 9 remote control with color display may be used for all functions as an option. This programmable and rechargeable remote control always comes with a charging dock.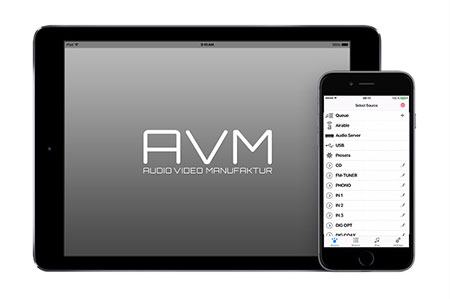 RC S App for iOS and Android
The RC S App will turn your smartphone or tablet into an easy-to-use remote control for your AVM audio components with integrated streaming capabilities and provides a variety of intuitive features to get the most out of your network-enabled AVM HiFi device.
TIDAL & QOBUZ
All AVM HiFi Streaming devices now include support for TIDAL & QOBUZ. TIDAL & QOBUZ are both innovative music streaming platforms offering high-fidelity sound quality, expertly curated content, and unique artists experiences for registered subscribers. TIDAL & QOBUZ both offer free trial versions. For more information on TIDAL & QOBUZ, please visit www.tidal.com & www.qobuz.com.
Stay up-to-date

To get the most out of your AVM HiFi streaming system, please make sure you always keep the RC S App and the streaming software of your AVM device up-to-date. You can download the latest version of the RC S App in the Apple App Store or the Google Play Store. To make sure your AVM device runs the latest version of the streaming software, please use the RC S App or the optionally available RC 9 remote control.
RC S: Navigate to the Settings tab and choose Device Settings / Software / Check for Updates
RC 9: Navigate to the Receiver Settings menu and choose Software / Update

RC S Remote Control App for iOS





RC S Remote Control App for Android