REL Acoustics : TZero (Piano White)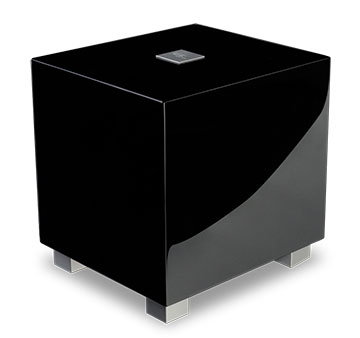 The REL T ZERO is the result

of the collaboration between our American design and engineering team and our British production team. The T ZERO was conceived to be the most cost effective high-performance product we know how to build. We have spared none of the materials and finishing techniques our larger designs are noted for. Many competing products are clearly the result of cost engineering, however, T ZERO is a pure high-end product in design and execution.
Many of the sonic virtues –speed, warmth and slam –embodied in T ZERO are the direct result of mechanical and acoustic advancements. In particular, we have utilized thick slabs of dense, acoustically inert MDF, masterfully bonded to create an exceptionally rigid, near-monocoque cabinet creating an inert structure that allows more of the music to emerge. The powerful and efficient Class D amplifier is mated to a down-firing 6.5" long-throw driver capable of launching a surprising amount of room filling bass that belies the T ZERO's size.
T ZERO enjoys all the connectivity options found on all REL Sub-Bass Systems. For 2-channel systems the
High-level connection, using the Neutrik Speakon connector, is preferred because by connecting to the amplifier's speaker outputs the sonic signature of the entire amplification chain is folded into the REL signal thereby keeping timing and timbre cues consistent. The REL Connectivity Suite™ allows for using both high and low input options. The ability to blend and individually control both signals that, for example is useful in a home cinema system where the sub-bass system must reproduce both main speaker and .1/LFE low frequency content. Additionally, connectivity to Class D main power amplifiers cause no problem thanks to REL-D™, a proprietary circuit that creates the proper grounding environment for most Class D amplifiers.
---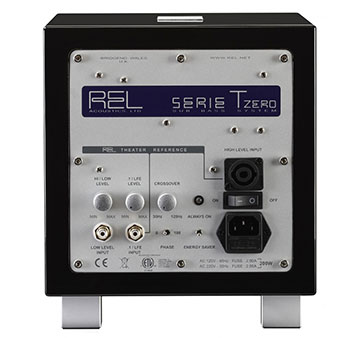 Miracle in miniature
This modern life we inhabit, where less space means more enjoyment in more rooms than ever before. Movies in the bedroom growls, rumbles and springs to life, the gaming console in a spare room takes on a whole new meaning when the effects are suddenly rendered with lifelike bass, and your favorite digital music files appear and float in front of the listener with lifelike clarity and power. T-Zero makes each experience better, enriching even modest systems with power and natural bass.
This is the premise of T-Zero; bringing the quality and indeed the full REL connectivity suite, long throw drivers and powerful, reliable amplifiers to a new lower price point and dimension. T-Zero is, in many ways, the most difficult design we have ever executed because never before have we delivered so much for so little with so much quality. 5 coats of lacquer, as in all Serie T, next generation Class D amplifiers, High level inputs, .1 separate input stages, rugged 6.5" main driver with exceptional output and low bass extension for its size means T-Zero gives up little to much larger units from the competitors.
Industry veterans are in awe that REL are able to bring the full REL input/connectivity package to life at such reasonable cost and retain the beautiful execution of fitment and detail for which we are so well known. High-level with crossover available down to 25 Hz, a dedicated .1 Input so Theater Reference mode can be engaged; T-Zero is a miracle in miniature.
At REL every clean sheet design begins by defining and designing the best bass engine for a given application. While the long throw 6.5" is our smallest-to-date, but make no mistake it is powerful and articulate, able to fill medium-sized rooms effortlessly. Have a much larger space? Distribute them throughout for an unobtrusive spacious presentation of music and film sound.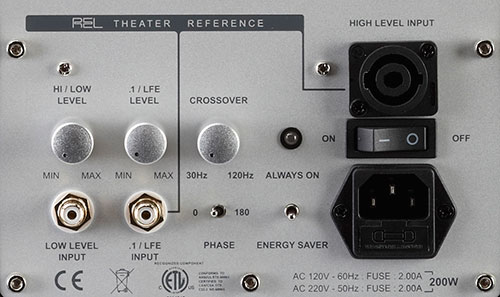 ---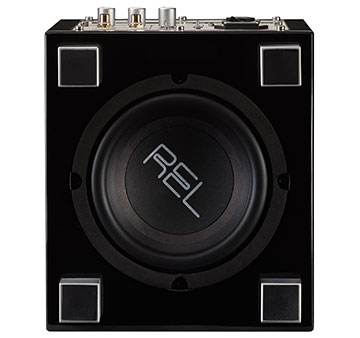 T-Zero is built using a super stiff cabinet construction that drives the resonant frequency higher so it is more easily damped by our instrument-grade bracing. We utilized 5 full coats of lacquer, and solid aluminium feet and badging because REL owners understand quality must extend throughout a product, not just in the most obvious locations. And its diminutive scale allows it to all-but-hide among the furnishings in your home.
---
สัมภาษณ์ John Hunter
เจ้าของและผู้ออกแบบ REL Acoustics
---