REL T-9X (RED)

Experience the allure of Rossa Corsa, the iconic shade of red that's adorned the most famous Italian sports cars. When this vibrant hue meets our beloved T/9x model and is complemented by exquisite chrome feet and badges, the result is the T/9x Red—a must-own for any audio enthusiast. But it's not just about aesthetics. Beneath its striking exterior lies a carbon fibre center-cap that optimizes rigidity and reduces the moving mass of its 10" (250mm) driver resulting in improved performance. Secure yours now, as this special release will not last long
---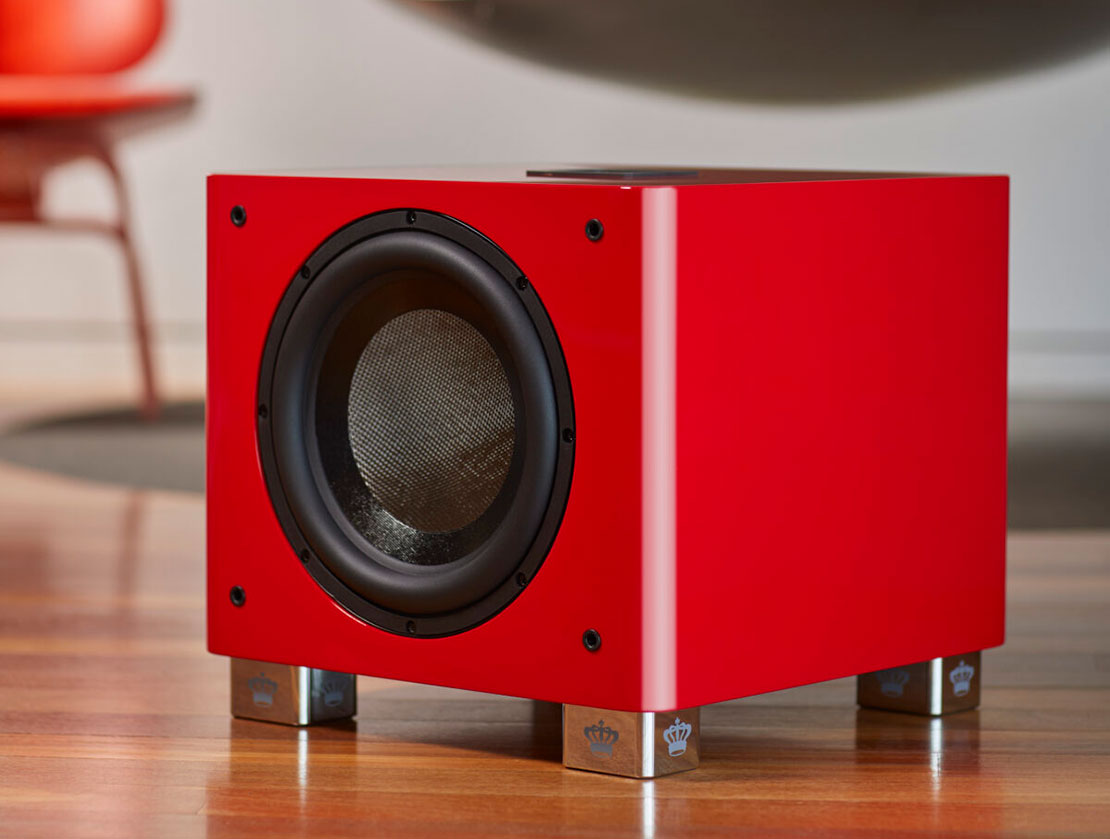 A Symphony of Speed and Sound
Embracing the vibrant allure of Rossa Corsa—a hue synonymous with the world's most iconic Italian sports cars—the T9x Red stands out not merely as a subwoofer, but as a testament to the fusion of aesthetic elegance and audio expertise. Within REL's illustrious lineage, this model showcases a distinctive confluence of sound engineering and design flair. Every detail, from its meticulous craftsmanship to its advanced performance features, resonates with luxury and sophistication. For audiophiles, design aficionados, or those who cherish the sublime, the T9x Red offers an auditory experience that is as profound and captivating as its visual charisma. Secure this special edition today and immerse in a sonic masterpiece.
---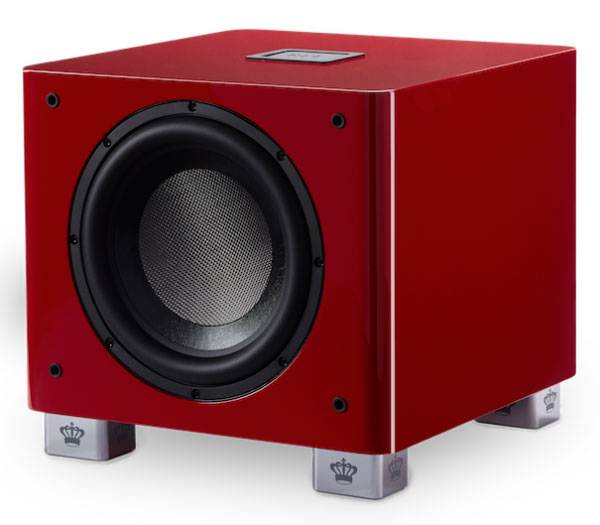 Masterfully Crafted to Mesmerize
Every T/x model boasts sleek, radiused designs and impeccable craftsmanship. But with the T/9x Red, we've gone a step further. The seven coats of Italian Racing Red Lacquer took over a year to develop and perfect. It's the subtle details that elevate this model—the badge atop takes three days to perfect, and each foot undergoes a three-day chroming process. We meticulously layer copper, nickel, and chrome, allowing each coat a day to set before adding the next. This is the attention to detail that makes REL stand out.
---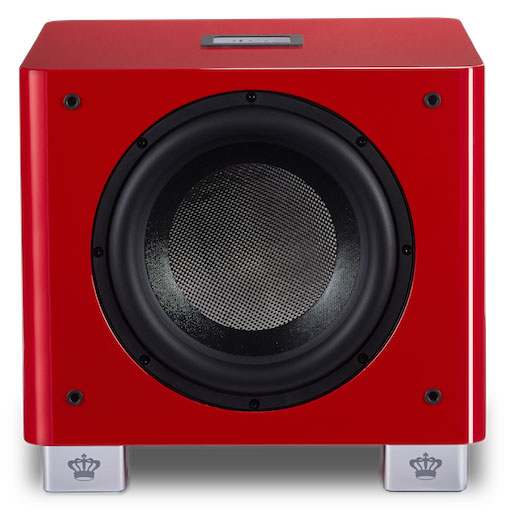 The Heartbeat of Every REL
A REL's essence lies in its driver, and we dedicate immense care and expertise into its design and refinement. The T/9x Red's driver is no exception. We've upgraded its critical center cap with carbon fibre, enhancing its stiffness for better bass articulation. By reducing its weight by 10 grams, we've achieved a faster response and a notable 1.2 dB increase in output, making the T/9x faster and more dynamic.
---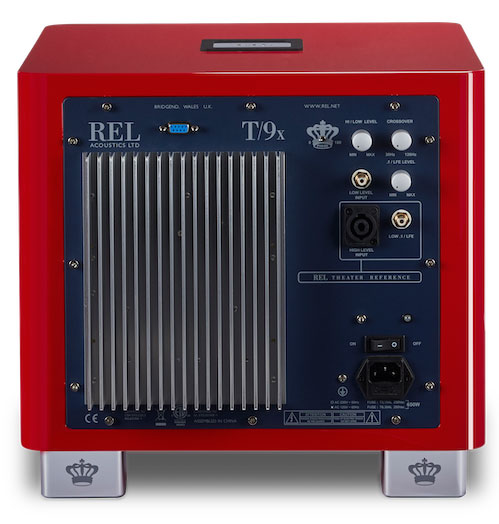 Amplified Emotion
The T/9x Red's amplifier embodies power and precision with its 300-watt Class A/B monoblock design. Using reliable mosfet designs with integrated heat sinks, these amplifiers have been the driving force behind the Serie T flagships since 2007. With nearly 90,000 units in circulation—and most in daily use—we take immense pride in their performance and dependability.
The streamlined 8ms input filters ensure a seamless user experience. With straightforward rotary controls for gain, crossover, and LFE Gain, and an intuitive 0–180 degree phase switch, setting up your REL is straightforward and hassle-free. No misplaced remote controls or complicated apps—just timeless, dependable engineering
---


Exclusivity Meets Excellence
With its striking red hue, polished chrome accents, and sleek carbon fibre center-cap, the T/9x Red is not simply a visual masterpiece, it also builds on performance compared to the standard T/9x. Designer, John Hunter, delves deeper into its design revealing the meticulous attention to detail that sets the T/9x Red in a league of its own. Each badge and foot are perfected over a three-day chroming process, under scoring REL's unwavering commitment to craftsmanship.
---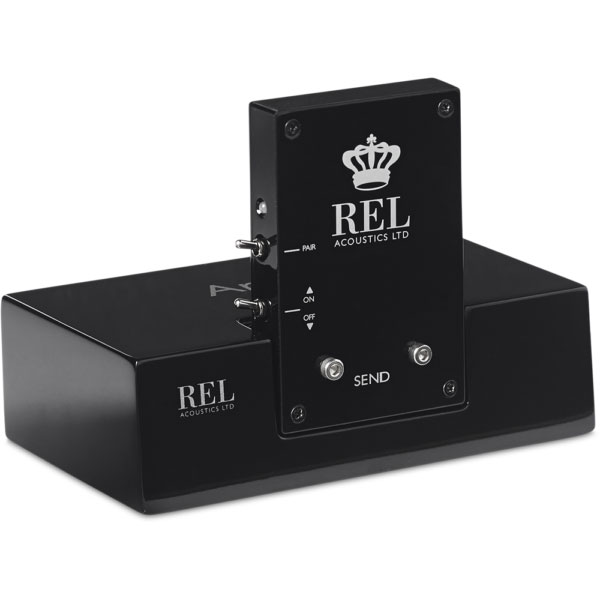 Wireless That Doesn't Compress the Sound
Unlimited Possibilities
At REL, we've developed a sterling reputation for building the finest sounding, fastest wireless systems available in the industry. We never rely upon digital compression as it results in dull, lifeless sound. Instead, we have perfected an (optional) Arrow™ wireless system so fast and dynamic we're comfortable encouraging the use of wireless on one channel of a pair of RELs while the other channel may be connected conventionally with cable.
---
สัมภาษณ์ John Hunter
เจ้าของและผู้ออกแบบ REL Acoustics
---